LOVE LOVE LOVE them
Review by Stephanie on 26 Feb 2019
review stating LOVE LOVE LOVE them
I am in serious love with these shoes. It is difficult to find cute shoes with larger feet and these in a 43 wide fit me perfectly. I can wear them all day and my feet still feel good at the end of the day. None of that, "ahhh" feeling when I take them off. Instead, my feet feel energized. Wish they had other colors in the 43 wide as I would buy more!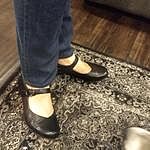 Perfect
Review by Savanah on 16 Nov 2019
review stating Perfect
Super cute and very comfortable
My new pair of Danskos
Review by Angela on 8 Nov 2019
review stating My new pair of Danskos
My new pair of Danskos (Fawna) arrived on time. They are beautiful and well made. I wore them right away, and even danced in them. They are very comfortable, and fit perfectly. I can wear them for casual and dressier occasions, as well. I have plantar fasciitis, and this shoe accomadates my orthotic inserts and gives me the additional support I require.
Love these shoes!
Review by Meredith on 7 Nov 2019
review stating Love these shoes!
Love these shoes!
Always Dansko!
Review by Kimberly on 4 Nov 2019
review stating Always Dansko!
The Dansko brand has never disappointed me. My love affair with Dansko shoes began with a pair of professional clogs to wear standing for hours in the operating room and racing all over the hospital for 13 hour days, never having a chance to sit. Until I found Dansko, I had NEVER found a pair of shoes which would leave me completely comfortable head to toe for that length of time. They are an absolute miracle of engineering! I started buying the cute styles like the Mary Janes for clinic days and had the same result. I never even think about my feet all day! I don't ever want to wear any other shoes. Now if only Dansko would make some beautiful formal footwear, like dainty-looking sling-back heels and strappy cocktail sandals in a dozen colors and metallics! Foot discomfort ruins SO many evenings out and formal occasions for women; please rescue us, Dansko!
Q: Are these a true buckle or velcro?
A: Hello,
The Fawna style has a Velcro strap.
A: Hello,
The Fawna style does not have a slip resistant outsole. For your convenience, below is link to of the styles we currently manufacture with a slip resistant outsoles:
dansko.com/womens-shoes-slip-resistant-shoes
Q: I own the PRO XP in a size 36. Would I order the same size in the FAWNA? Thanks.
A: Hello,
Our size 36 typically accommodates US sizes 5.5-6. Depending on what size you normally wear in US sizes, you should be the same size in the Fawna style. Keep in mind too that the Fawna style should fit more like a traditional dress shoe.